Back
The True Cost of Labor in Cannabis Operations
Inefficiencies in your cannabis business and dispensary day-to-day operations could be costing more than you realize. Calyx is here with streamlined solutions to save you time + money!
Back
The True Cost of Labor in Cannabis Operations
Stay in touch!
Join our email list to receive Calyx content & product updates.
Dispensaries of all sizes face common inefficiencies. Manual processes and errors can cause bottlenecks at any stage of cannabis operations, creating costly rework loops that eat into your bottom line. Managing human error and staying ultra-organized and compliant can help your business meet its goals.
Calyx offers solutions to many of the processing issues that cause expensive delays in cannabis business operations. Our innovative packaging and inventory management system is designed to streamline your workflows and keep you in compliance by reducing the need for human intervention. The goal here at Calyx is to help businesses save time, money, and space.
Save Time On Packaging Prep
Sorting, organizing, and placing containers upright before packing are highly manual practices and can create bottlenecks in your value chain. Smart packaging choices can speed up your filling and weighing processes, getting your bud to retail faster.
Calyx packaging solutions can reduce your labor costs and make operations more efficient. Our containers roll up to your facility squeaky clean and ready to fill, saving you the effort you might take to clean your new shipment. All our packaging also arrives open and uncapped so your team doesn't spend any valuable time separating bases from lids before packing your greens. Our concentrate containers arrive neatly packed in 50 count trays that make them easier to fill by keeping them upright, organized, and auto-counted.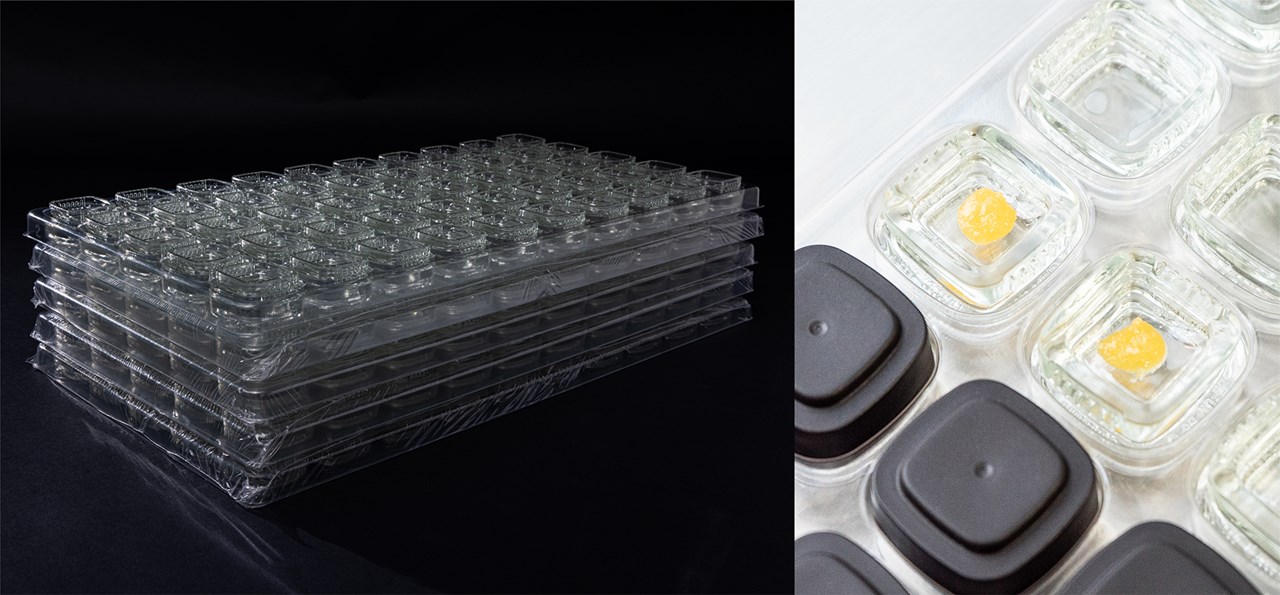 After your Calyx containers are filled, our lids easily seal shut due to their streamlined closure. No more endlessly screwing on bottle tops–just press the lid down onto the base and listen for that Calyx click!
You can manually cap your containers, but we also offer capping automation that organizes and funnels filled Calyx bases and then automatically places the lid on top. If automation sounds like your speed, reach out to a Calyx Sales Rep to learn more!
Every Container Counts
At many retail locations, budtenders are tasked with performing inventory counts at the beginning and end of the day to ensure each sale is meticulously documented. In Massachusetts, for instance, the Cannabis Control Commission enforces careful tracking of cannabis sales. Making sure the count is right takes time because if inaccurate, budtenders have to start over (after taking a moment to internally scream). If even one container is missing from the floor or if a sale is undocumented, it must be reported and may even be investigated. Each state or territory's cannabis market has its own approach towards inventory tracking, but the message is clear: staying in compliance is key to maintaining a successful business. Inefficient packaging can make that job a whole lot harder.
Our modular tray frames and inserts help keep your business organized so you can keep track of every package during a busy day at the dispensary. Our Dram containers lock securely into their corresponding inserts and stay perfectly upright during filling, weighing, and retail operations. Calyx inserts are designed to snap easily into our trays so you can transport, stack, and manage your inventory however you need to. 
Our numbered inserts are also self-counting, meaning your team can say goodbye to long hours manually counting stock, a workflow with major room for error. All inserts start with the number zero in the first slot. That way, your budtender team can look at the last number on display and immediately see how many units are left in each tray.

Since spatial optimization is our specialty, stacking filled trays on top of each other enables you to maximize vertical storage space, or minimize spatial needs by nesting empty trays inside one another when they're not in use.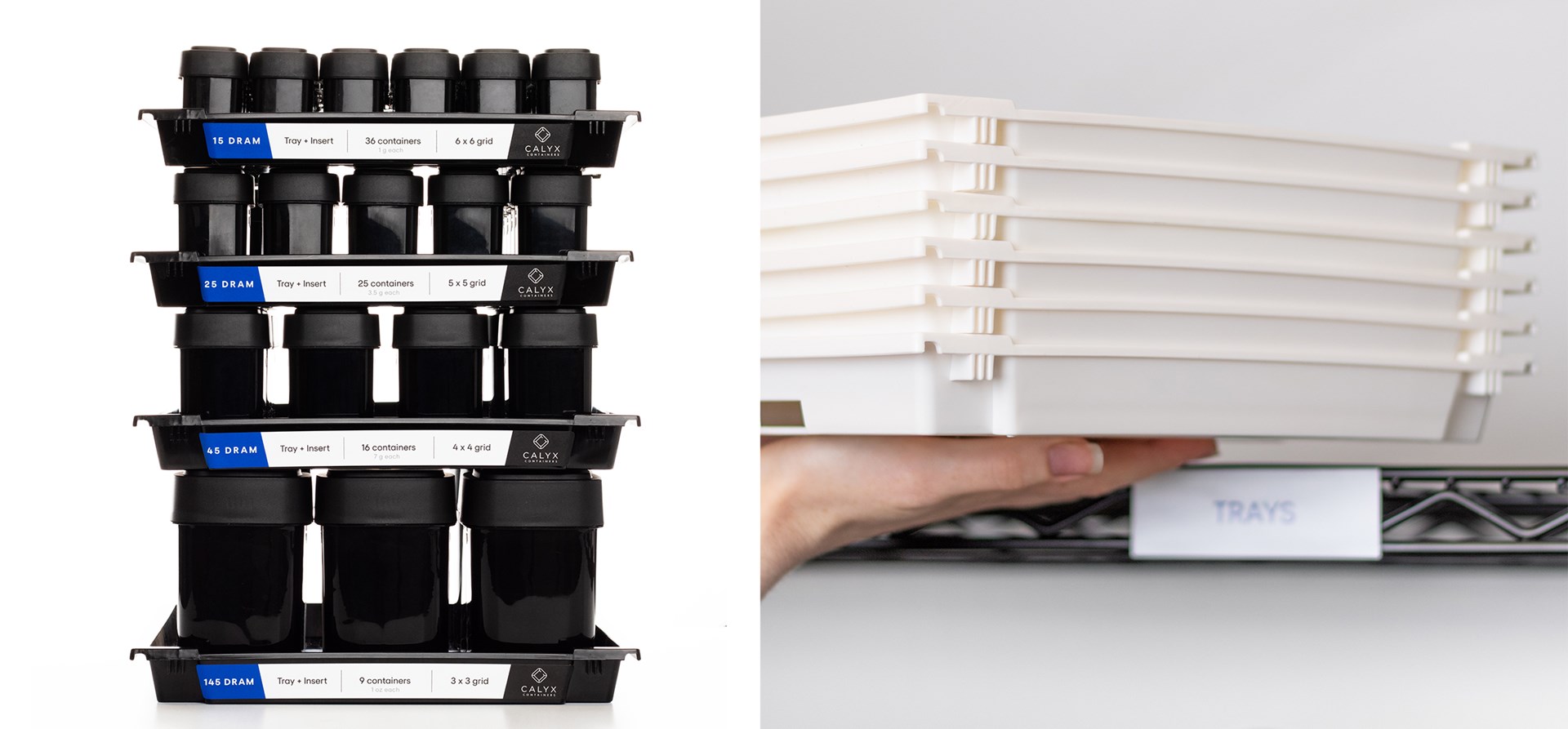 Square is Best for Space Savings
Bulky bottles take up more space than needed to hold your cannabis, and there's no great way to store them. They take more time and energy to transport between facilities and organize in your backroom and on the shelf.
All of our packaging is square for a reason. Square containers save 18% more space when compared to round ones, meaning you can fit more product wherever you keep it.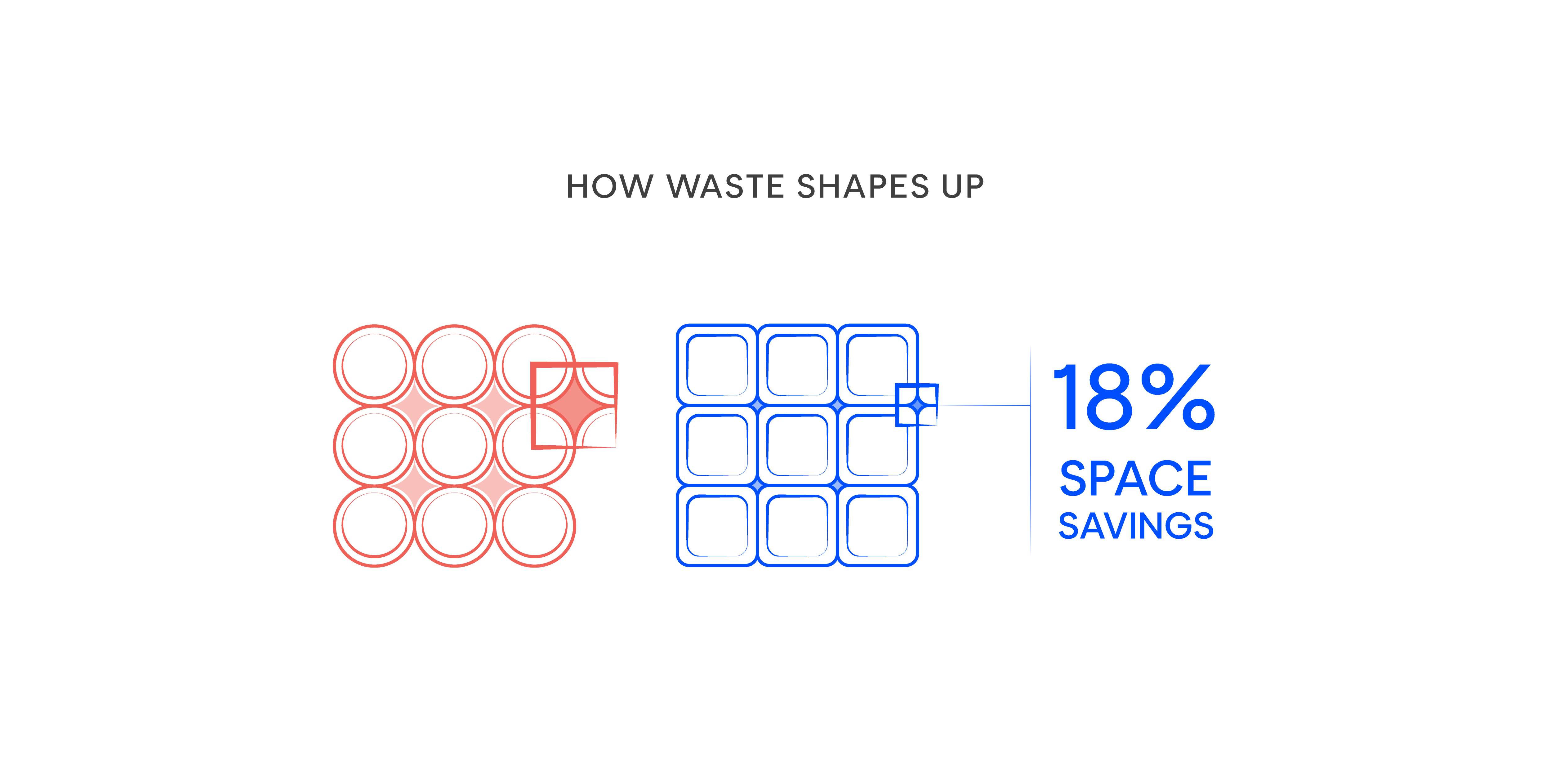 Our space-saving design also optimizes transportation and reduces emissions when compared to standard round packaging. We can pack and ship containers more efficiently by fitting more containers in each box, meaning fewer shipments needed and lower transportation costs. More containers in less space is a win for everyone, including our planet! 
Need A Hand Labeling?
If you spend labor costs on time-intensive, manual label application, we have a solution for you. Calyx offers an automated labeling machine, the Pronto Labeler, that can label up to 40 containers a minute. With the Pronto you're able to streamline your packaging process. 
The icing on the cake? All of our packaging ships from the U.S., meaning you don't need to worry about the rising cost of overseas shipping. Reach out to our team and see what savings we can offer your cannabis business. 
Contact Calyx Containers:
(617) 249-6870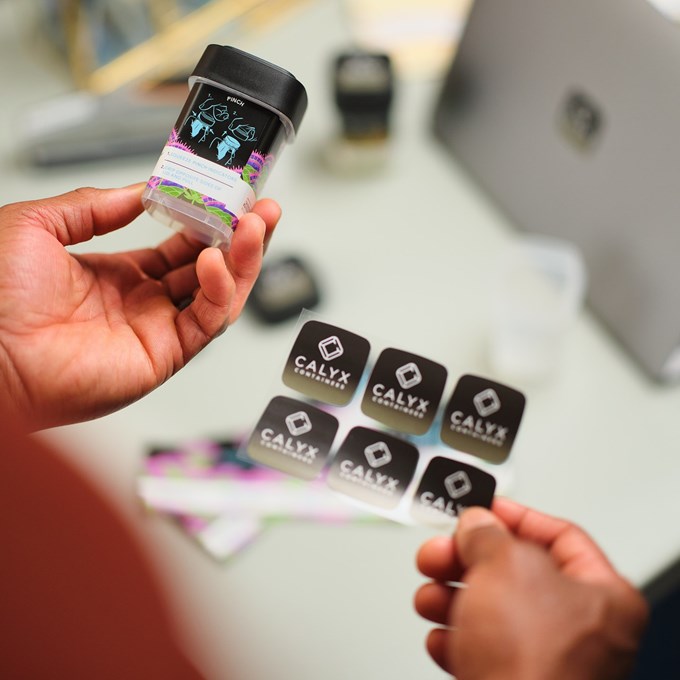 Curious about Calyx? Stay up to date on the latest in cannabis packaging.