Cannabis Flower + Edibles Containers
Calyx containers come in four sizes to satisfy your cannabis packaging needs.
---
Options
Sizing Chart
15D
25D
45D
145D
Sizing Comparison


15D
25D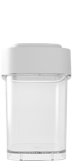 45D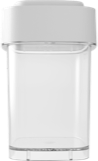 145D
Product Advantages
Product Preservation
Calyx plastic Dram containers overcome common cannabis quality issues such as moisture loss and terpene degradation with its preservation technology. Our Dram bases - including clear container offerings - block UV-rays to protect cannabis from the damaging and chemically altering effects of sunlight. Combined with our resealable lid technology, our Drams maintain optimal moisture levels and control oxygen ingress so that what you package is always what you sell.
Sustainability
Calyx Drams are designed to be reliable, reusable, and easily recyclable. Our Dram containers and accompanying lids are mindfully manufactured in the United States to reduce energy, water use, and emissions. To decrease our impact on the environment, our Drams feature an organic additive that accelerates degradation in a landfill's microbial ecosystem more rapidly in comparison to untreated plastics.
Learn more about our Sustainability initiatives.
Child-Resistant + Senior Friendly
Our Drams exemplify sophisticated safety for your cannabis product. The design utilizes our signature pinch-and-pull lid mechanism, which is Senior-friendly while accessible to those with dexterity limitations. This container is Child-Resistant and tamper evident with the use of a shrink band or sticker.
Inventory Management
Optimize and organize your inventory management with Calyx Containers' modular, stackable tray system. Our numbered trays lock in each Dram container to support your everyday business operations from transportation to inventory reconciliation. 
Beyond Bud
Drams ensure edibles taste better and last longer, using our preservation technology that protects and maintains the container's internal environment. Whether you're packaging baked goods, gummies, or capsules, our Drams keep your cannabis products fresh for your customers.
Need something extra?
Tell Us About Your Company To Qualify For A Sample Kit

Request a Sample Kit

Need Custom Label Designs & Application?

(Only avail. for 12k+ units)

Schedule a call

Looking for labels under 12k+ units?

Order now