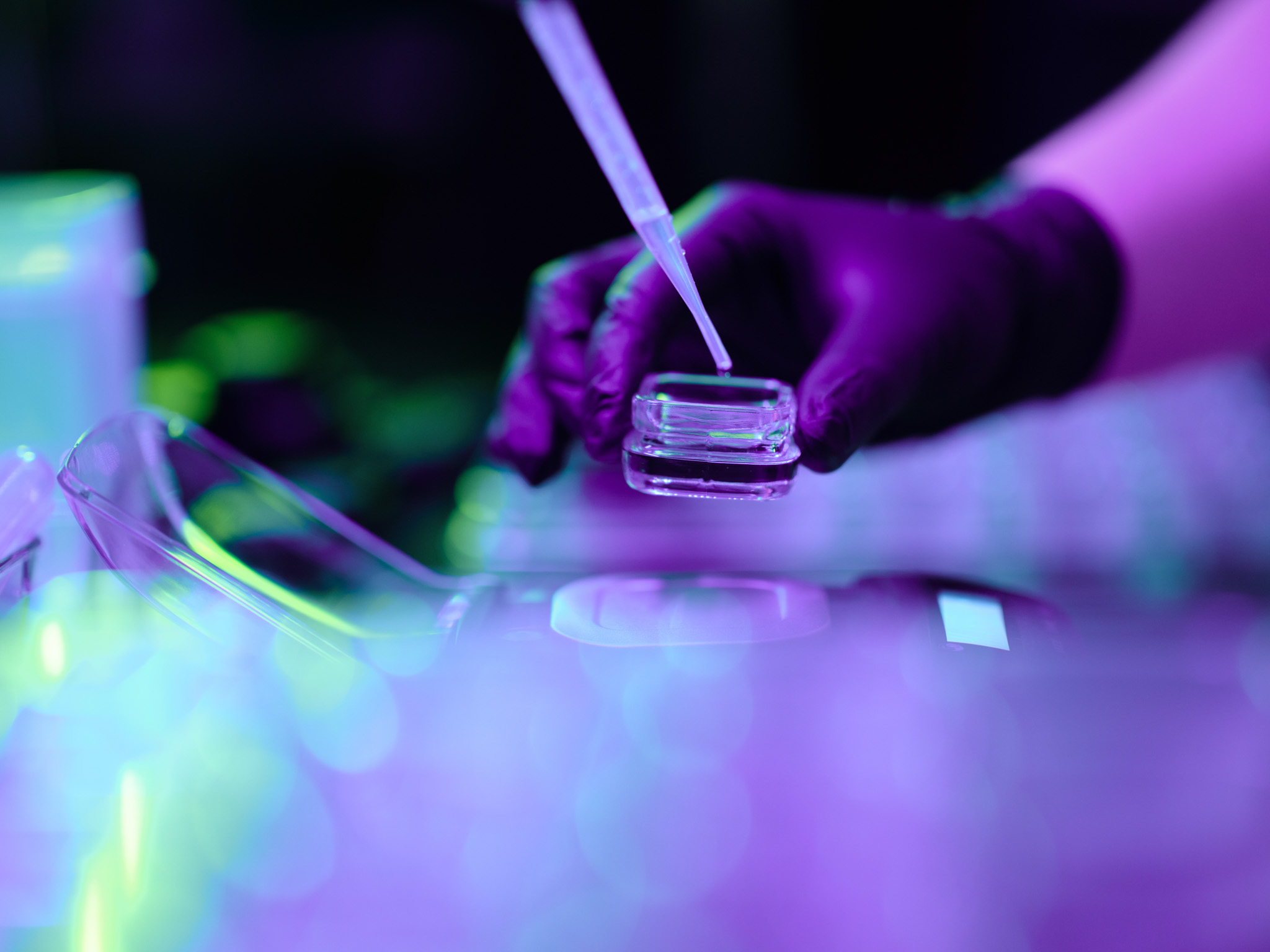 Back
Put Calyx Concentrate Containers to the Test
Calyx Concentrate Containers have been rigorously tested to ensure they meet the highest standards for product preservation. Learn more about how our products perform here!
Back
Put Calyx Concentrate Containers to the Test
Stay in touch!
Join our email list to receive Calyx content & product updates.
Step inside Calyx's product testing ecosystem.
Packaging Performance Standards aren't new. In fact, the pharmaceutical and biotech industries have relied on standardized testing methodologies for decades. Agencies like ASTM International, United States Pharmacopeia (USP), and International Organization for Standardization (ISO) have established strict baselines of performance for traditional medicine and technology packaging. Most containers and accessories in the cannabis ecosystem don't interact with any of these established standards due to the consistent high performance required to achieve a positive certification or result.
While we don't shy away from putting our products through rigorous testing and certification programs, we also understand that cannabis presents unique testing challenges. To best understand how conventional packaging performance testing correlates with cannabis product preservation, we employ a multi-faceted approach including standardized certification testing and continuous, iterative R&D testing to ensure our products meet your high standards every time. At Calyx, we're always asking ourselves how we can measure our performance in helping you package your products most effectively. 
We put our Concentrate Containers to the test using Moisture Vapor Transmission Rate (MVTR) and Vacuum Burst Testing. Even though these methods aren't commonly used, we believe they should be!
MVTR: The Gold Standard of Performance Testing
On average, Calyx's Clear Concentrate Containers retain moisture 5.6x better than competitive packaging.
One of the most consistent methods for holistically evaluating cannabis packaging is testing Moisture Vapor Transmission Rates using USP 671 Methods 1-8, which offer the gold standard of analysis. All of these associated methods tell us how well a container preserves its internal micro-environment by evaluating the rate at which liquid or gas is exchanged within it.
When it comes to MVTR, smaller values equal a higher performing container. Many concentrate containers found across the cannabis industry claim to offer an "air-tight" seal, even without standardized testing methodology to back up their claims. Competitive containers rely on terms which cannot be proven through third-party testing, but the difference in quality is clear once we perform Moisture Vapor Transmission Rate Testing.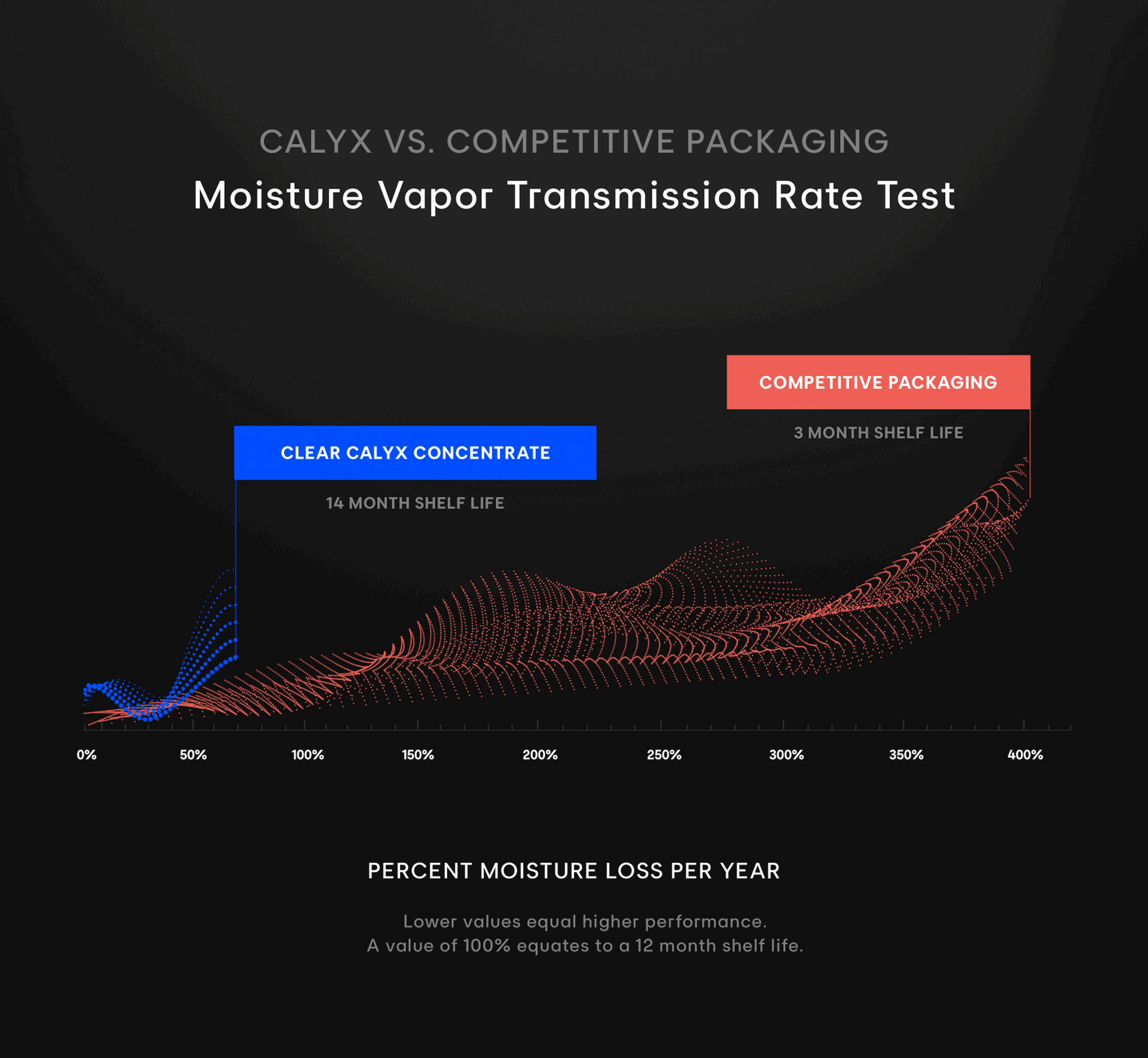 Packaging options that claim an "air-tight" seal are often some of the lowest performers with MVTR values of 400% and up, equating to a three month product shelf life. In contrast, Calyx Concentrate Containers consistently exhibit values less than 100%, equivalent to a 14 month shelf life.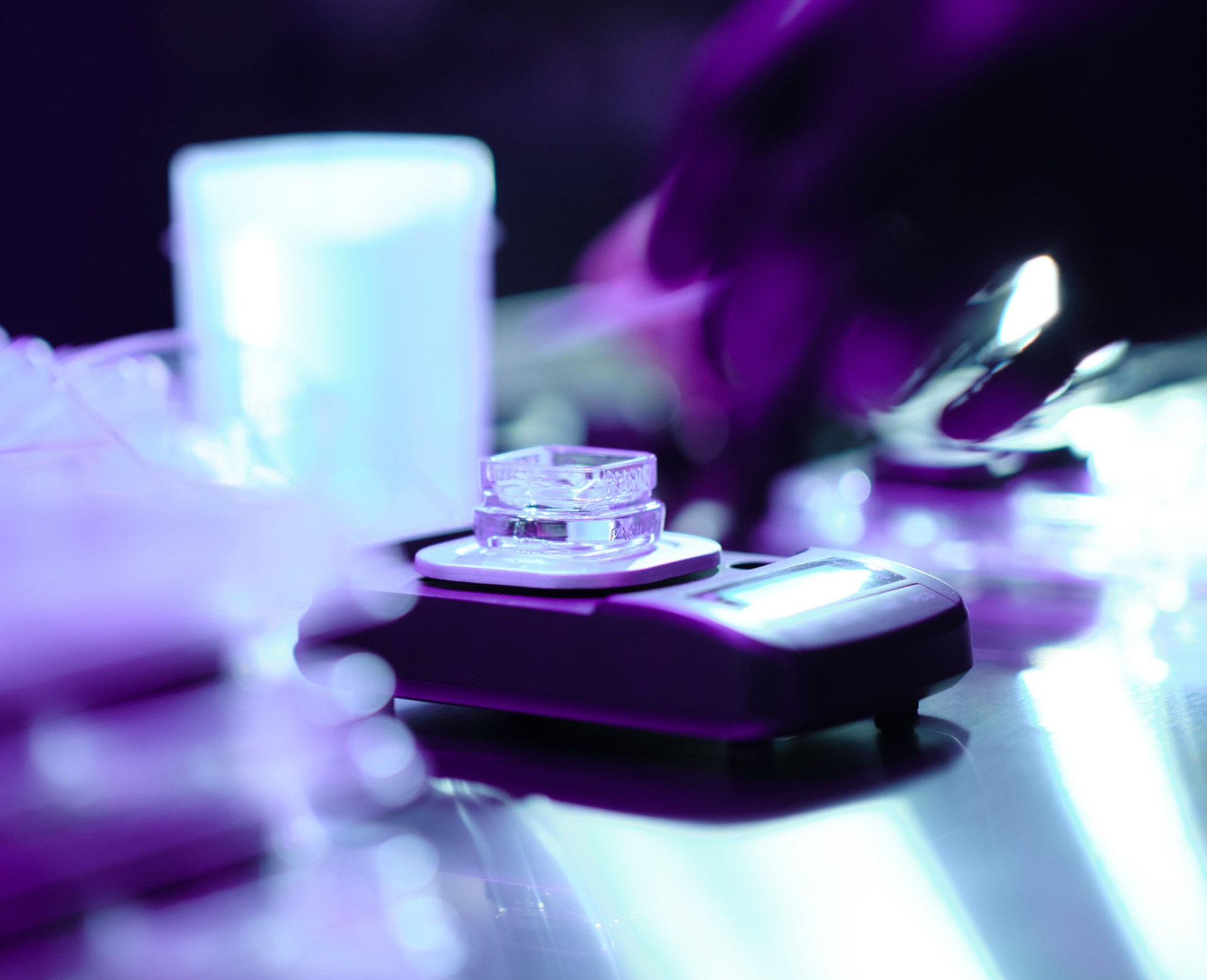 Calyx Concentrates Perform Under Pressure: Vacuum Burst Testing
Calyx's Clear Concentrate Containers seal with an average of 1.6x the strength of competitive packaging.
Vacuum Burst testing is a tried and true method that assesses packaging's ability to retain a tight seal, which is key to preserving your precious product. At Calyx, we push our containers to the absolute limit, employing extreme conditions and pressurization tactics to understand exactly when and how our containers might fail in the real world. We emulate ASTM's established standards like D3078 and F2096 to test each batch of Calyx products and confidently deliver on your customers' high expectations.
By emulating these tests for each batch of Calyx products, we can be confident that our containers meet and exceed your expectations. In addition to conventional testing standards, we push our containers to the absolute limit, employing extreme conditions and pressure holding tactics to understand exactly when, and how, our containers might fail in the real world.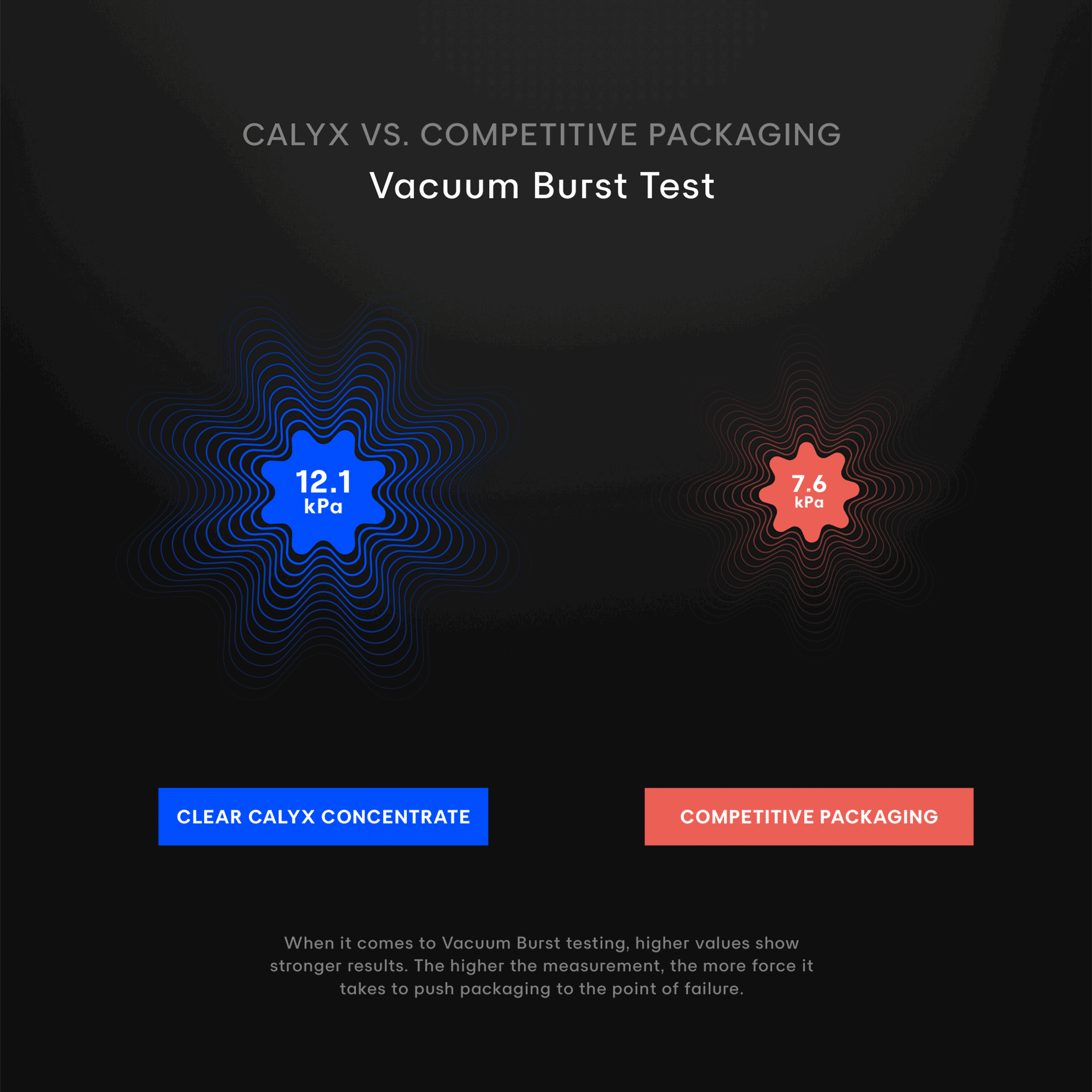 Through our rigorous internal testing, we've found that our Concentrate Containers seal with enough strength to resist pressure differentials that would be experienced by an unpressurized airplane at 30,000 feet.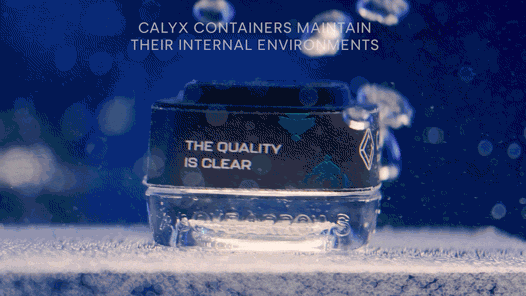 The Calyx Testing Ecosystem
Validation through certified and accredited lab testing partners is only one facet of our testing ecosystem measuring how well we're meeting our own and industry standards for cannabis packaging performance. MVTR and Vacuum Burst Testing enable straightforward and accurate comparisons between Calyx and competitive products, but don't tell us everything we need to know about cannabis concentrate preservation.
Our customers work hard to produce their sauciest, most terpene-rich products, and we strive to put the same commitment into our side of the equation. By creatively combining traditional testing methods with cannabis-specific test targets, we are able to gain a greater understanding of how our containers will protect your concentrates from production to consumption. Testing for the rate of volatilization, escape, and uptake of isolated terpenes, cannabinoids, and other volatile organic compounds informs us of where we excel, and where we can continuously improve within the specific context of cannabis products.
By constantly evaluating our product line through multiple test methods, we keep our fingers on the pulse of product performance and catch lower performing units before they ever reach our customers.