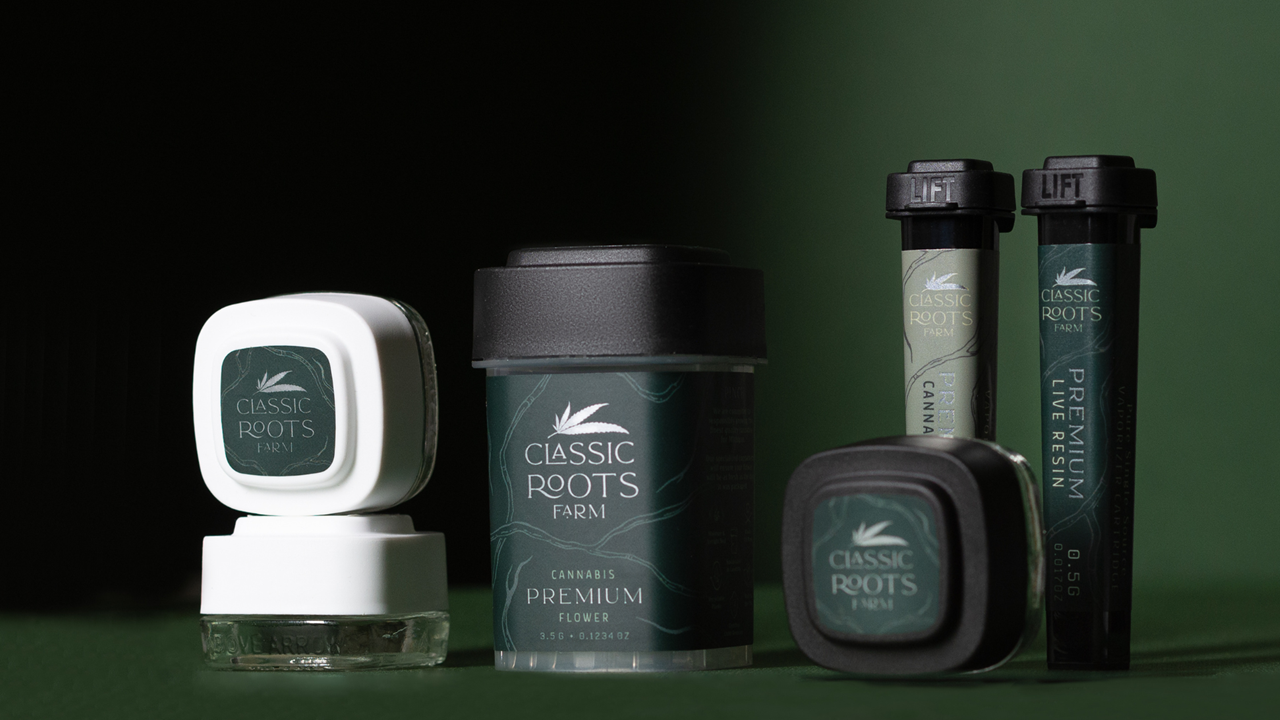 Back
Classic Roots Farm Grows Their Cannabis Brand With Calyx Creative
Classic Roots Farm is a craft cannabis brand with a passion for bringing the best quality products to the cannabis consumers of Michigan. Along with impactful packaging design, Calyx container products support their company mission to minimize energy, resource, and waste in this fast-growing industry.
Back
Classic Roots Farm Grows Their Cannabis Brand With Calyx Creative
Stay in touch!
Join our email list to receive Calyx content & product updates.
Classic Roots Farm is a craft cannabis brand with a passion for bringing the best quality products to the cannabis consumers of Michigan. These lovingly grown and hand-trimmed products are thoughtfully packed and preserved in Calyx Containers. Along with impactful packaging design, our partnership with Classic Roots supports their company mission to minimize energy, resource, and waste in this fast-growing industry.
Jill Gilpin, the Director of Business Development and Marketing for Classic Roots Farm, worked directly with the Calyx Creative team to conceptualize the brand's visual applications onto label and box designs. "Our customers are looking for a premium product and our packaging is able to show that Classic Roots provides just that. We knew that our packaging was going to be one of the most important elements of our brand."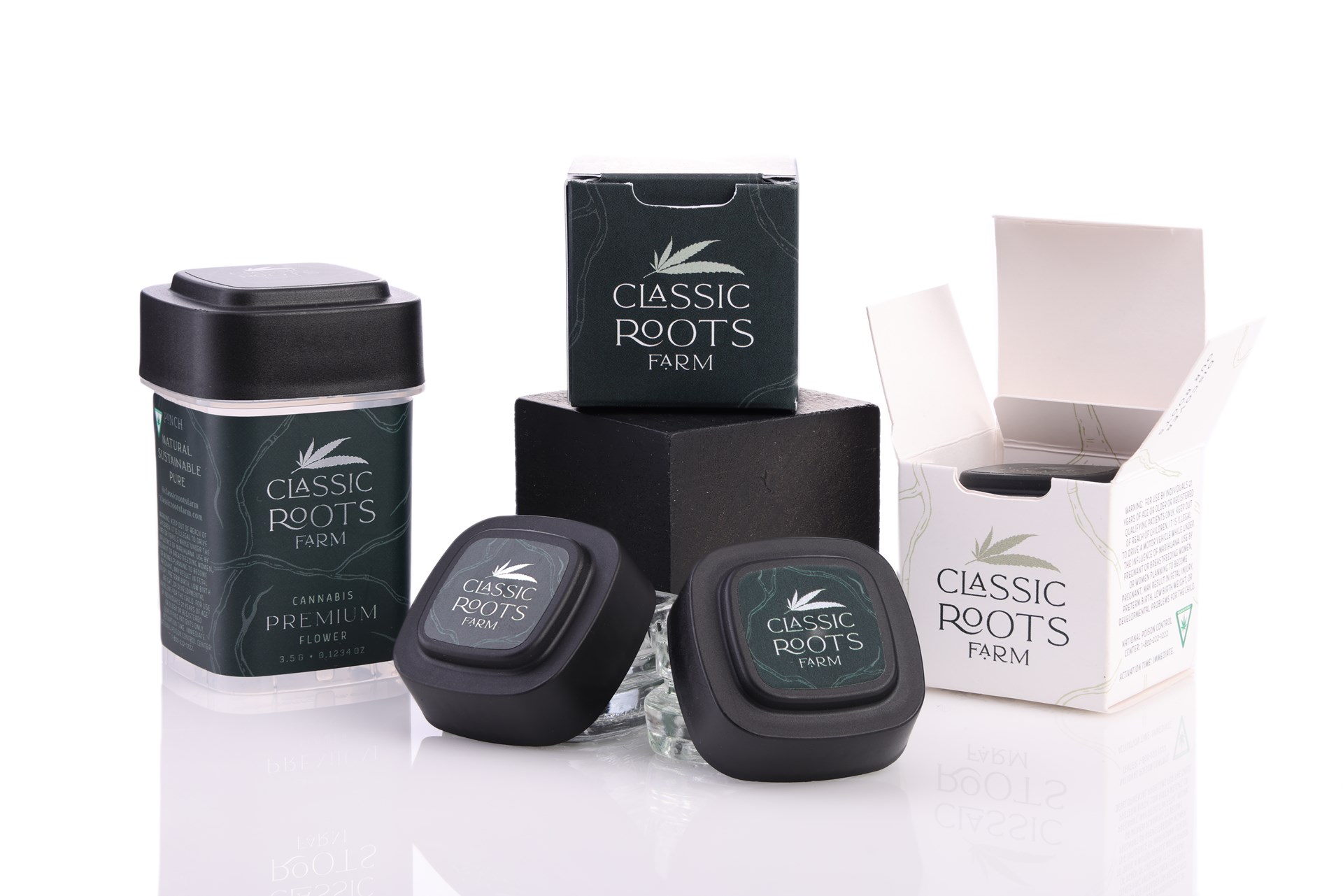 "When creating our packaging, we were looking for a custom design that had a premium, sophisticated, and natural aesthetic. Before working with Calyx, we really only had a logo for our company. After sharing our vision and mission, Calyx was able to turn our logo into a true comprehensive brand. We now use many of the design elements to influence all other aspects of our marketing, branding, and our overall story."

From the company's launch to the recent addition of new product offerings, the partnership between Classic Roots and Calyx Creative has set the brand apart from competitors. The recognizable designs on their flower containers, concentrate jars, and pre-roll tubes communicate the care, attention, and thought that Classic Roots puts into their top-shelf customer experience.
When In Doubt, Consult the Experts
Calyx Creative specializes in packaging design for the cannabis industry. This means we're experts at balancing compliance requirements with standout graphics that tell a story on the shelf.
"We were able to fit all of the compliance and regulations on our packaging without taking away from the overall design, which is a huge undertaking in itself and something that was a concern for us from the beginning." - Jill Gilpin
Compliance is a huge hurdle for cannabis businesses of all scales and sizes, and can seriously disrupt your business unless handled with care. Calyx takes the stress out of packaging compliance with our Child-Resistant certified containers and cannabis creative expertise.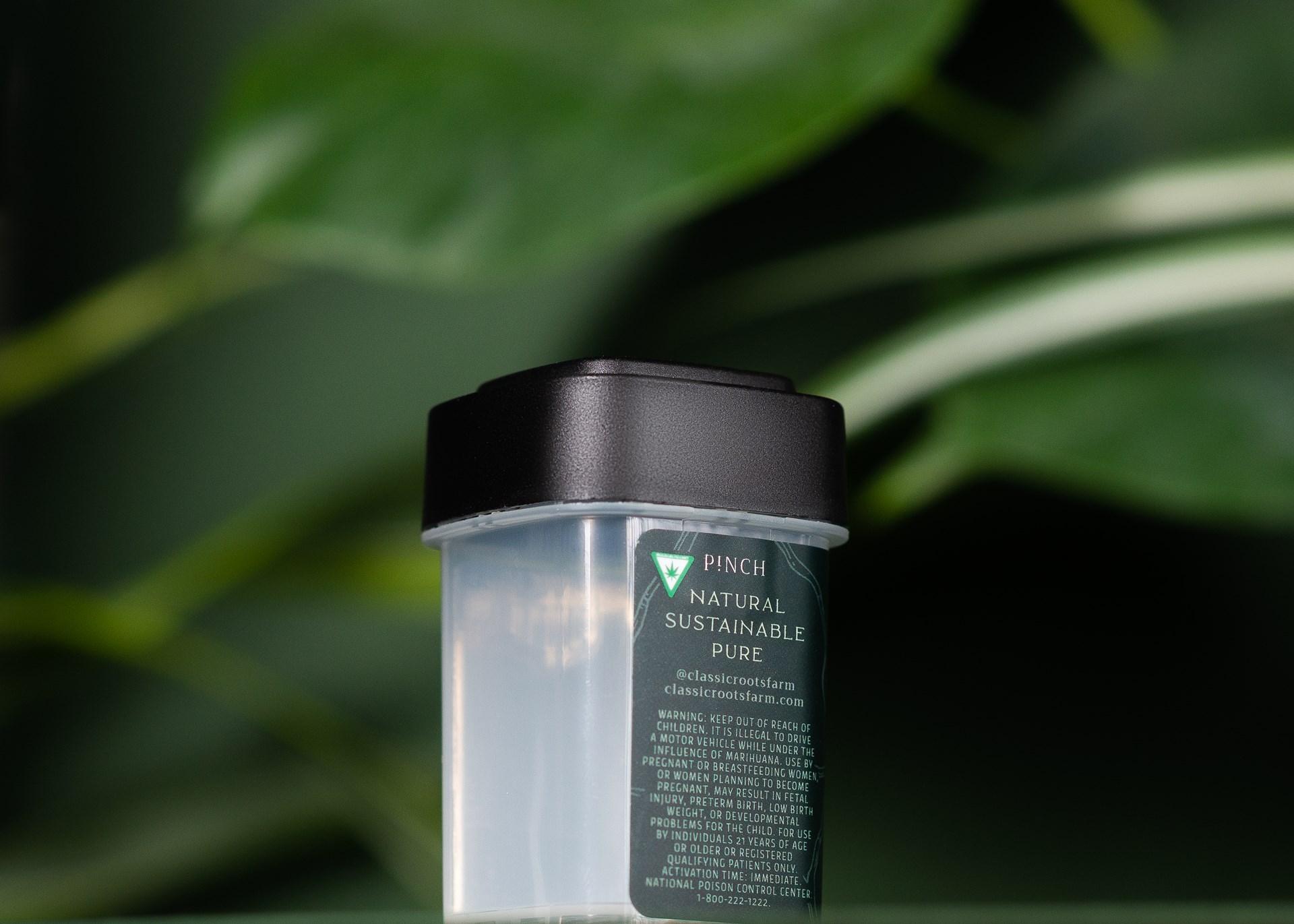 Growing With Your Brand
Classic Roots recently launched their newest pre-roll and vape offerings in Calyx tubes.
A new product needs a new vessel, and a new vessel needs a revamped label design. When applying a Calyx Dram design to a Tube, the smaller size and narrower shape of the new packaging was a serious consideration. The graphics needed to seamlessly scale down while telling a unified brand story.
"We wanted to utilize our current aesthetic and vibe but expand the brand's appearance overall. Our Calyx designer outlined different possibilities and built upon what we had already established for our packaging. This allowed us to narrow in on the direction we wanted to go with our new packaging designs, all while staying true to our brand." - Jill Gilpin
With unparalleled knowledge of our packaging's form, Calyx Creative expertly retro-fit Classic Roots' original design and ensured that the new product offering maintained alignment with the entire line. The result was a seamless visual representation of the Classic Roots brand across different cannabis products packaged in different containers.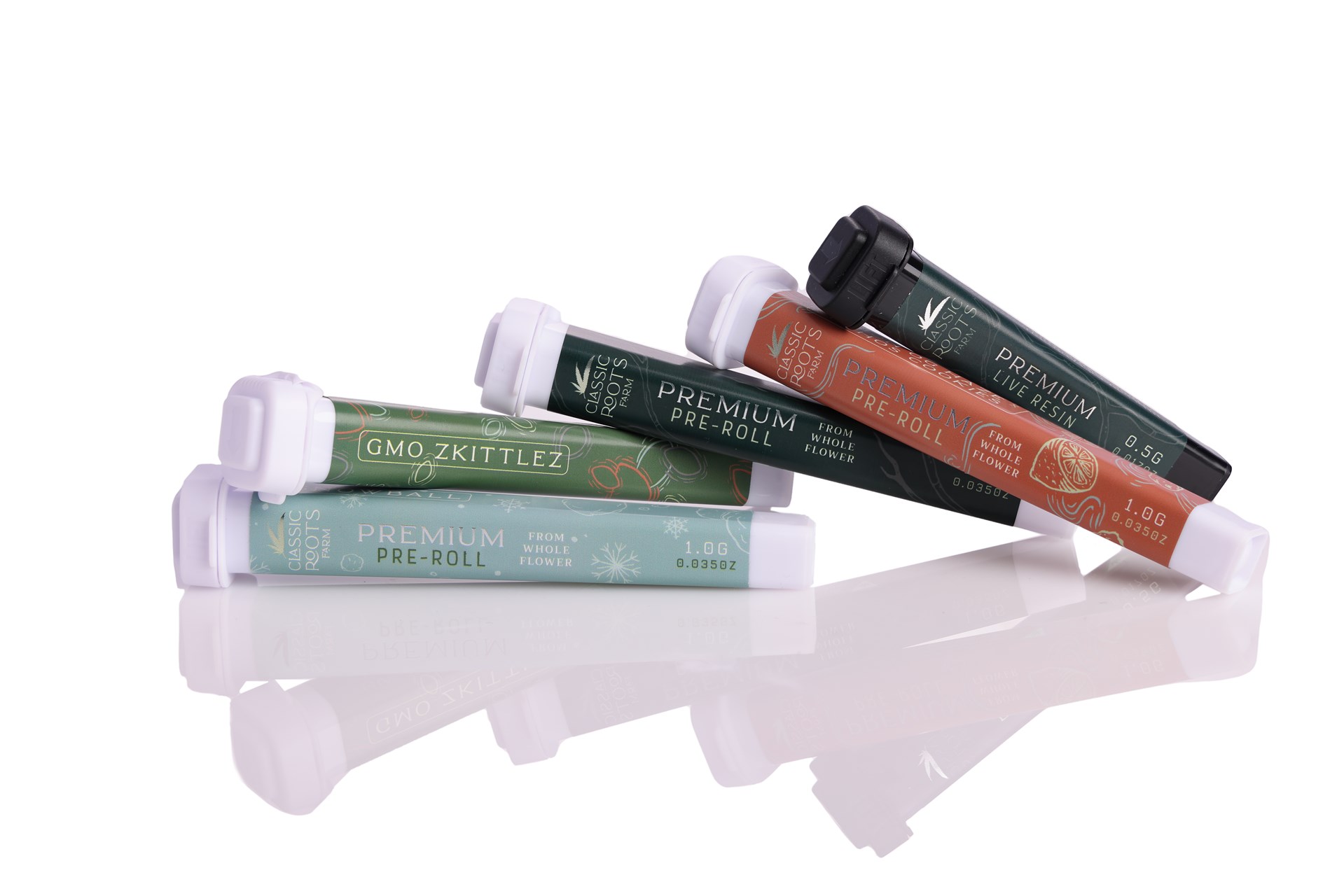 Collaborating with Calyx Creative
So, what can you expect when working with the Calyx Creative team on your packaging design?
As a Calyx Creative client, you will work directly with our team to ensure your final product meets your expectations and fulfills your brand's needs. The process is entirely collaborative, including discovery conversations, live presentations, and multiple feedback loops depending on the scope and scale of the project.
"Since we have started with Calyx, we have designed 5 projects together, and it has always been a seamless process. From the very first iteration, the Calyx team completely understood our initial ideas and was able to easily turn them into a comprehensive design.  From there, communication and changes were simple. Our designer, Ruby, is always able to make recommendations that fit within our vision and budget." - Jill Gilpin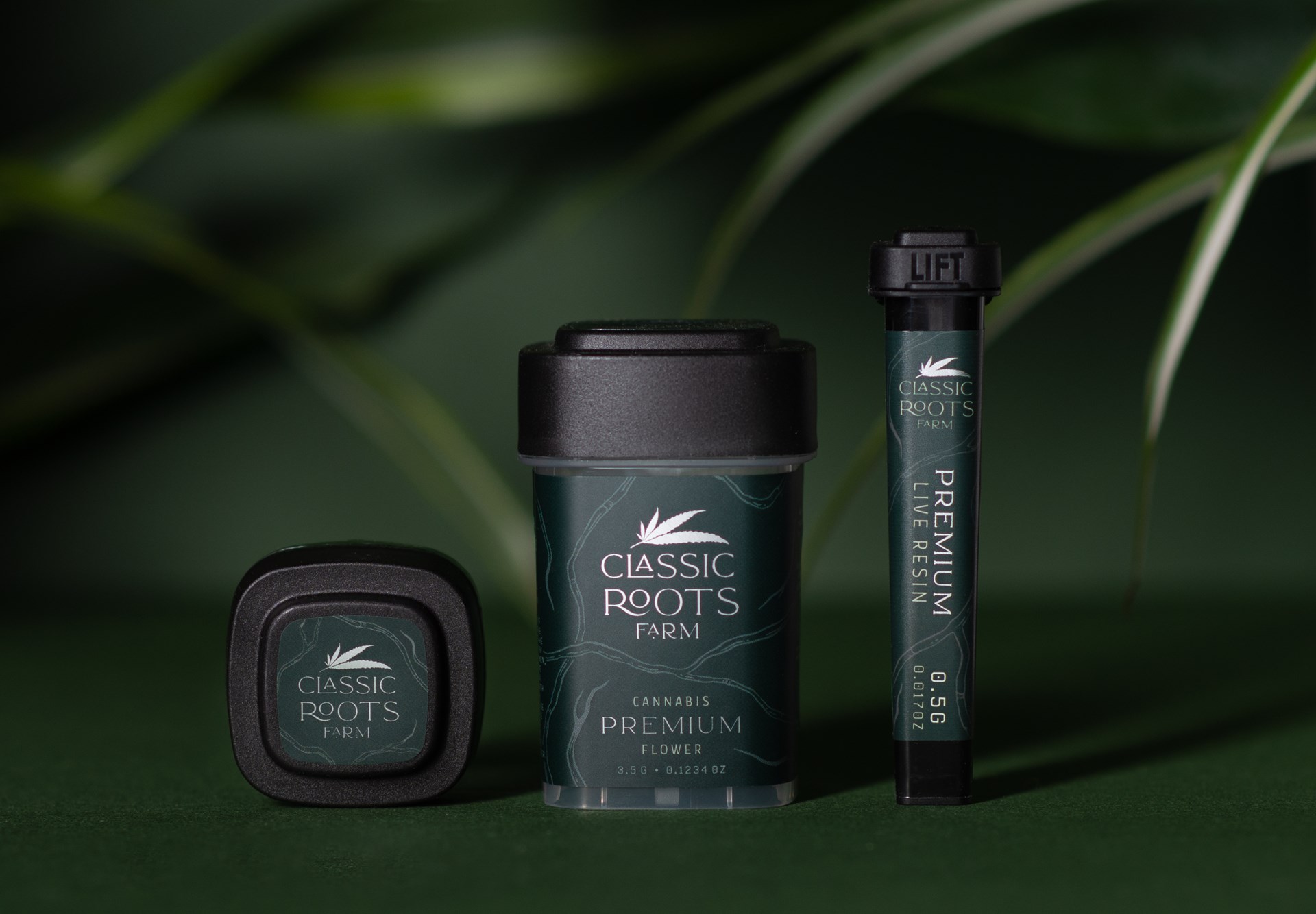 "The entire Calyx Creative team was incredibly responsive and helpful. We appreciated that our designer completely understood our vision and brand.
If you are considering working with the Calyx Design team, don't think any longer. You will receive the utmost care and attention throughout the entire process, and will leave with a high-quality design that you will be proud to share with your customers.
We consider Calyx to be a part of our team now and really can't imagine working with anyone else."

Learn more about Classic Roots Farm, and discover their carefully cultivated products.
Curious about Calyx Creative? Our team of expert designers specialize in cannabis packaging and offer various service tiers to fit your brand's needs. Learn more on our website.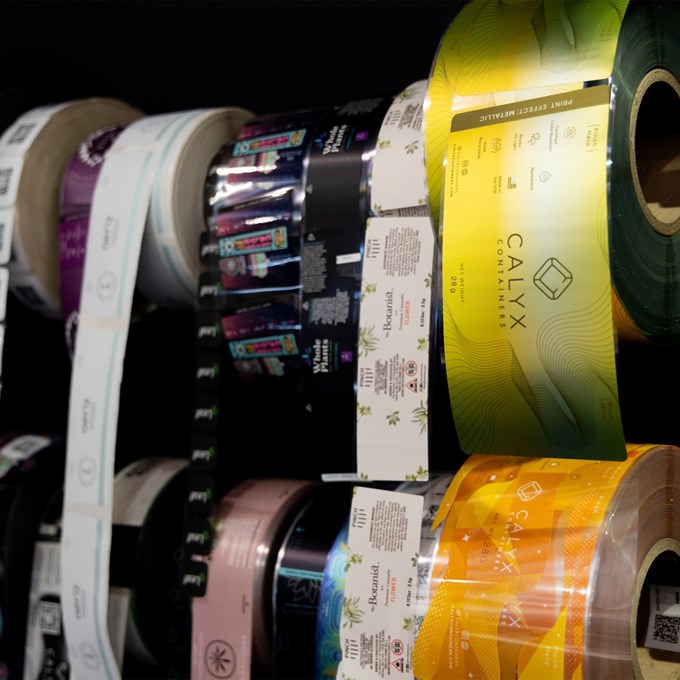 Interested in Calyx Creative? Stay in touch to learn more about our packaging design offerings.