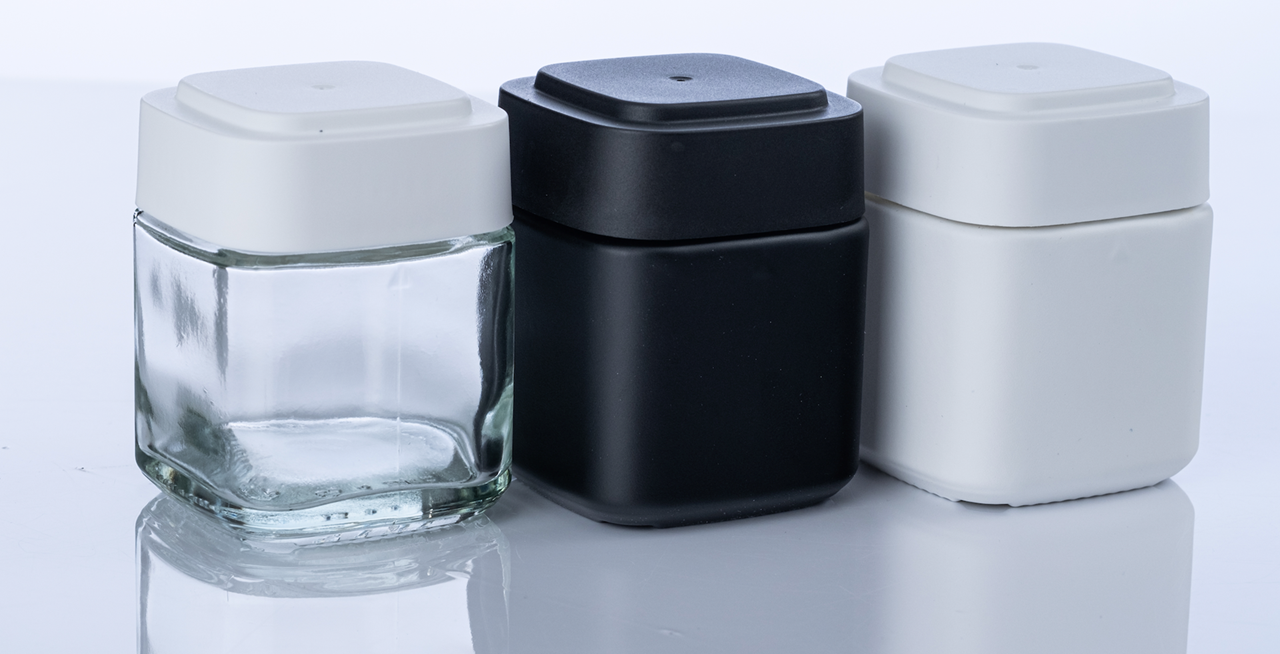 Back
Introducing the Calyx Jar
Calyx's new, innovative glass cannabis packaging jar is a premium offering that shows off (and seals in) your carefully cultivated product. Preserve terpenes, flavor, and potency from seed to sale, while adhering to our accessible pinch-and-pull, Child-Resistant certified lid mechanism. Learn how the Calyx Jar is engineered for excellence.
Back
Introducing the Calyx Jar
Stay in touch!
Join our email list to receive Calyx content & product updates.
Consumers are becoming increasingly more sophisticated in their cannabis selection. As the industry scales, cannabis businesses are investing time, money, technology, and resources to offer the best possible experience in a competitive market. 
One of these investments, the unsung hero of dispensary products, is the packaging it comes in. As the need for weed increases, the market has become heavily saturated with single-use containers. Mylar bags, pop tops, and push-down-and-turn containers have become the norm for what customers can expect when purchasing from a dispensary.
We at Calyx Containers believe that premium cannabis deserves premium packaging. Consumers are willing to pay a considerable amount for carefully cultivated cannabis, and the container it comes in should not only reflect this price tag, but should also work to maintain its quality from seed to sale.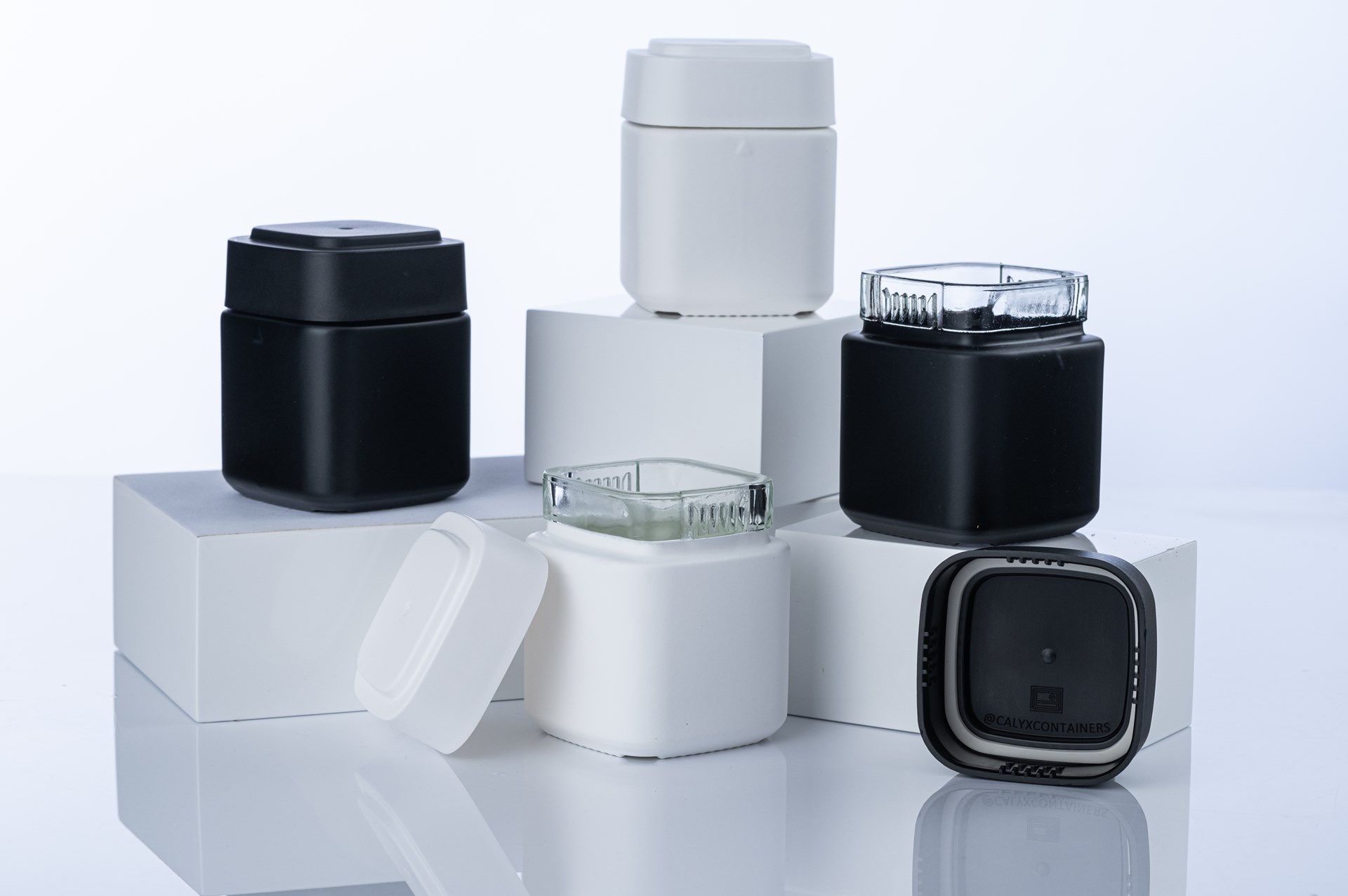 Introducing The Calyx Jar
The Calyx Jar is a groundbreaking, premium packaging solution engineered to protect and preserve cannabis products. This jar is made out of premium German glass, with an intentional design that upholds a longer shelf life.
The most unique feature of the Calyx Jar is its square shape, signature to our containers. This design accommodates a wide square mouth opening, beneficial for filling operations and enables end consumers to easily reach in and access their product. 
Paired with our proprietary lid and gasket technology, the Calyx Jar allows for a consistent reseal. This reliable seal maintains a healthy moisture content level and regulates oxygen ingress to resist the degradation of cannabis. UV-light is also an enemy to cannabis integrity, in which the Calyx Jar comes in two opaque finishes, Black and White. Engineered for excellence, the Calyx Jar offers a controlled internal storage environment that preserves terpenes, flavor, and potency.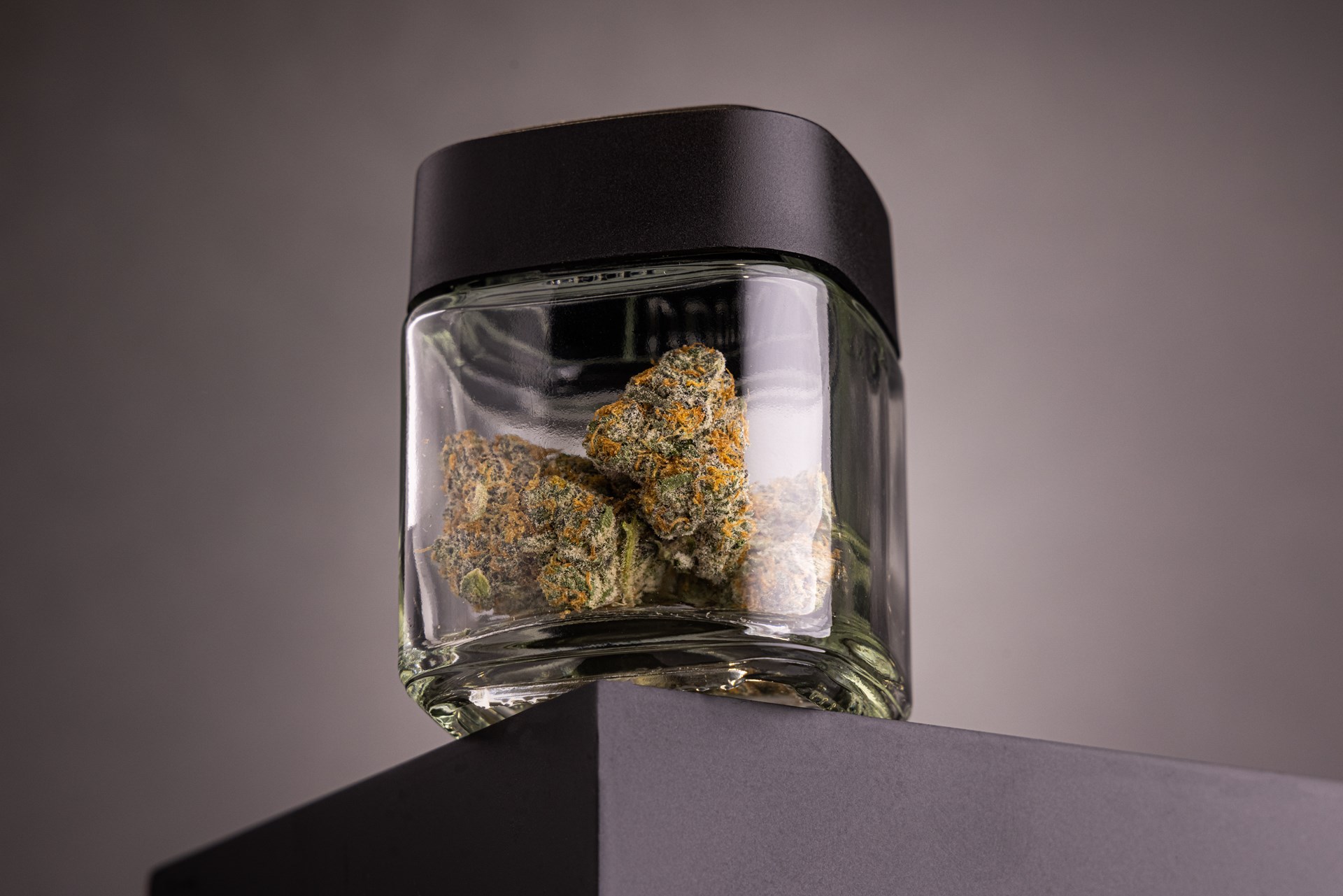 Expertly Designed. Independently Tested.
The Calyx Jar is independently tested by cannabis analytical testing company, MCR Labs, to ensure that the performance of our packaging meets, and exceeds, current industry standards.
The Calyx Jar undergoes additional third party testing that gauges the efficacy of the Calyx Jar's preservation in alignment with pharmaceutical packaging requirements. These set of requirements follow USP 671 standards, assessing the jar's Moisture Vapor Transmission Rate (MVTR) and Oxygen Transmission Rate (OTR) in relation to cannabis integrity, encompassing terpene levels and Total Active Cannabinoid (TAC) degradation. In a 30 day study, the Calyx Jar demonstrated higher preservation rates of cannabinoids and terpenes in comparison to competitor packaging brands.
Moisture content is the most significant factor in cannabinoid and terpene integrity during cannabis storage. The loss of moisture, or a container's MVTR, directly contributes to TAC preservation, demonstrating the Calyx Jar's ability to uphold these desirable chemical components in cannabis that contribute to its psychoactive effects. With healthy moisture levels, these valuable compounds can stay fresher, longer. However, as moisture evaporates, these compounds degrade, leading to dry and brittle flower. 
The Calyx Jar exhibited moisture loss of <1% over 30 days, compared to other packaging providers experiencing a 5-6% moisture loss. The findings of this study demonstrated that the glass Calyx Jar meets performance metrics to be categorized as "tight", the highest possible rating under USP 671 standards.
Over 30 days, the Calyx jar demonstrated <3% in TAC decrease, compared to other packaging providers demonstrating greater degradation and decrease in TAC.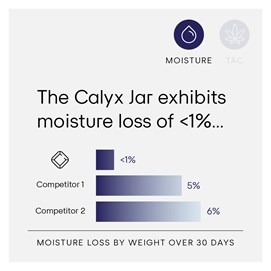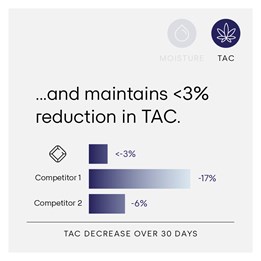 Sophisticated Safety and Compliance
Cannabis packaging regulations span over the United States and Canadian markets to keep kids out and allow adults in. The Calyx Jar is Child-Resistant certified and ISO certified so that customers can store their cannabis product with confidence in their cannabis product's security and safety.
Another important facet to compliance regulations is accessibility for patients with dexterity limitations. For those that find push-down-and-turn containers or tightly zipped mylar bags a challenge to open, the Calyx lid offers a more user-friendly approach. Our lids feature a pinch-and-pull opening mechanism that is also Child-Resistant certified.
The Calyx Jar's unique square shape acts as a billboard to clearly communicate all necessary testing and compliance information. Say goodbye to crinkled text on a crumpled bag, or turning containers to follow text that spans over a circular surface area. Read testing information, batch data, and safety disclaimers on a flat, legible surface.
Opacity is a requirement in a variety of states and markets. This regulation protects users, but also, protects the cannabis product inside from the chemically altering and damaging effects of UV-light. The Calyx Jar is available in opaque sprayed finishes, Black and White.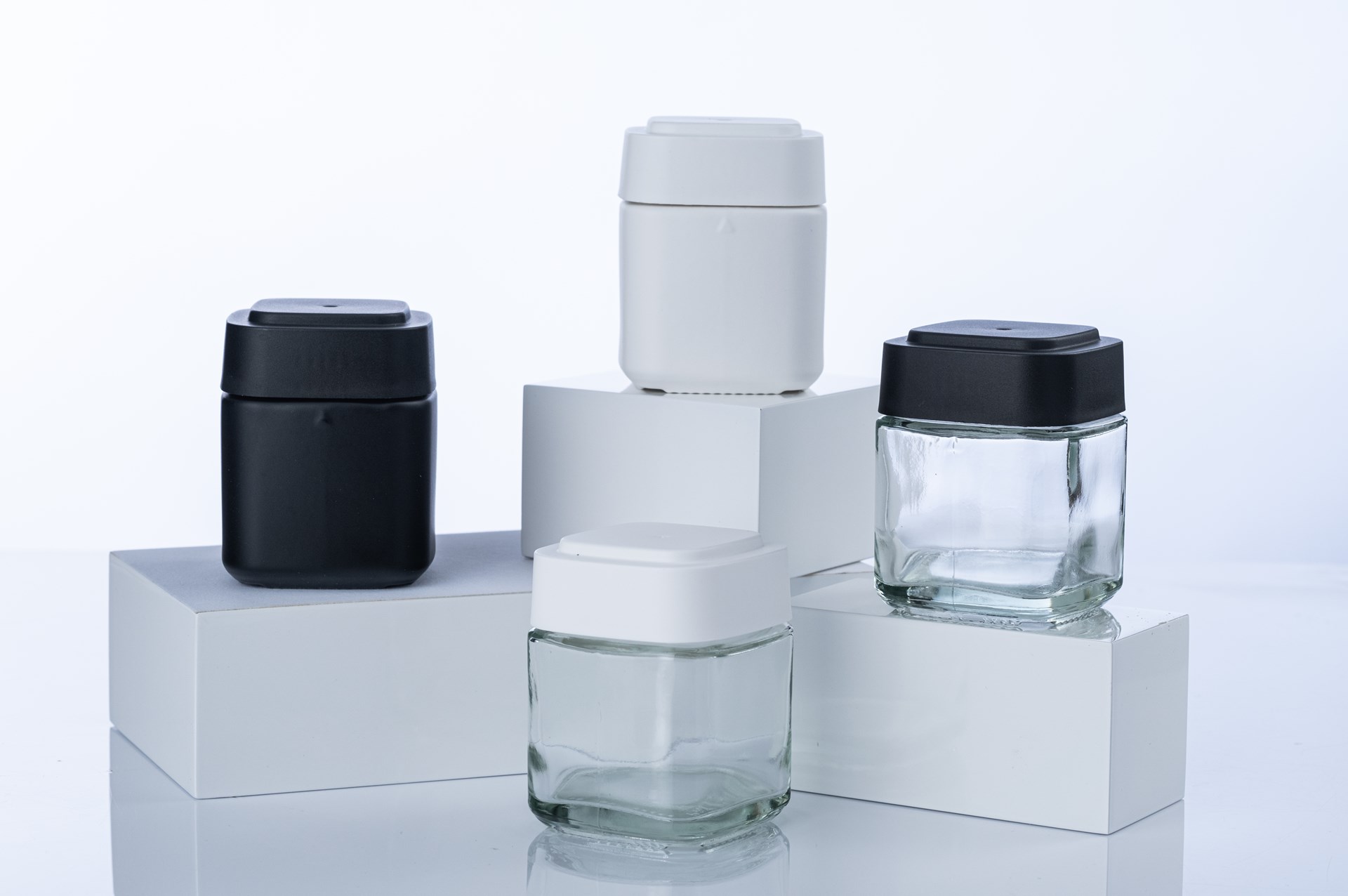 Calyx Containers are designed to preserve terpene integrity, and therefore, cannabis quality. Our new Calyx Jar is perfect for storing cannabis, with a glass base that naturally protects all facets of your carefully cultivated product. 
Our containers are equipped with unique resealable lids that have a tight closure for optimal cannabis storage. Moisture and UV rays can also accelerate the degradation process. Our containers retain your cannabis terpenes with a tight seal and by locking out moisture and UV rays, preserving flavor, smells, and potency.
Whether you are looking to learn more about our cannabis packaging solutions or you're ready to place an order, set your business up for success by reaching out to us via live chat, phone, or email.
Contact Calyx Containers
(617) 249-6870
Subscribe for updates on the new Calyx Jars, coming soon in Black Coated + White Coated glass.
Interested in the Calyx Jar? Reach out to connect with a Sales Rep!